Run-Bike-Run workouts have begun!
Are you new to RBR? No problem! This is how it works:
Starting time: 6:00pm on Wednesdays
Starting point: 7130 Columbia Gateway Drive
Course: 2 mile run (one single loop) around Columbia Gateway Loop, followed by a 10 mile ride (5 laps around the loop), followed by another 2 mile run (one loop) but in the opposite direction.
Once a month we will have timing by Rip It Events. Generally the RBR is casual – you can do your own thing if you don't want to follow the format, but it is a great way to practice running/riding/transition skills while working out with others.
Beginner's Triathlete Program
In partnership with our sponsor CB Multisport, we are excited to present the Centennial Triathlon Beginner's Triathlete Program.
This is a free, 16-week program being offered to MMTC members only to help prepare them for the new Centennial Triathlon taking place on August 15th, 2021. Coach Tim Delss will be providing a structured program along with training clinics and workouts to help you get started. If you're not an MMTC member, join!
We hope you'll take advantage of this program and find a group of new triathletes to train with while preparing for your race.
More information on the race can be found at: https://www.ripitevents.com/centennialtriathlon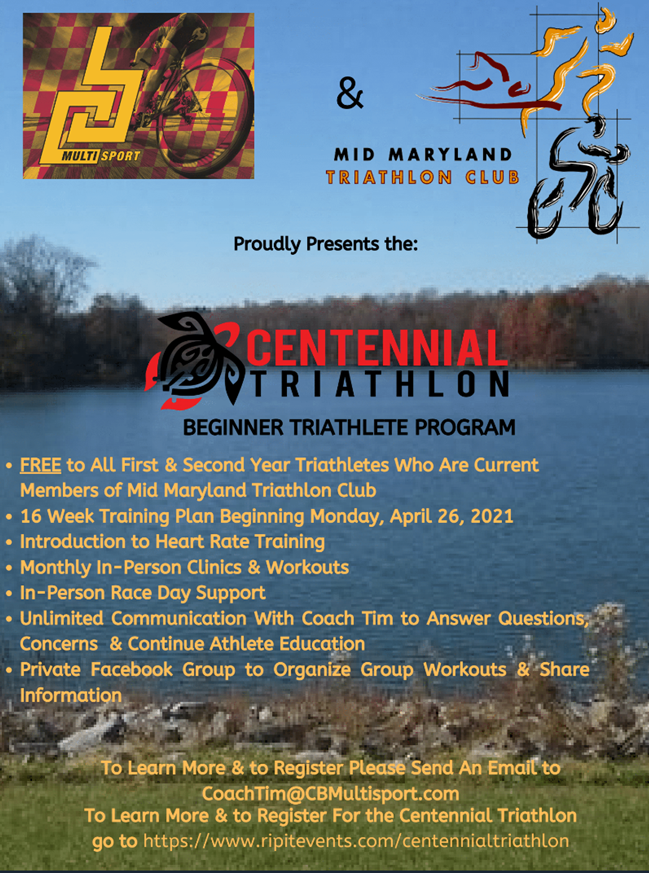 Weekly Club Training
Zwift
A few of our members have Zwift meetings on various days of the week. Feel free to message us if interested in setting up a group ride and we'll help organize it!
Strava
Just a reminder that we have a Strava group, and that's yet another great way to connect and stay engaged with club members throughout the year – you can join the MMTC Group here: https://www.strava.com/clubs/4094?fbclid=IwAR3BegsziKNulIoV6Gx0HcDoUP-2OYxTYkrsbPQt7swwHXrTKgYOEs0z560
Virtual cycling classes
John Hughes at 90+ is runs virtual classes and MMTC members get a 10% discount.  For more information – visit the 90+ website here: https://www.90pluscycling.com/class-schedule.html
Upcoming Training Weekends
IMMD Cambridge Weekend: August 28-29, 2021